This week customers will start seeing Inventor 2018.1 Update in their Autodesk Desktop App and Autodesk Account. The update addresses a variety of issues with additional features that strengthen Inventor and we're going to share some of the highlights with you.
Model Based Definition Extended to Assemblies
Every seat of Inventor 2018 includes Model Based Definition (MBD), a set of capabilities that allow you to define dimensions and tolerances on a 3D model that can be used for downstream manufacturing processes. The 2018.1 Update adds assembly level tolerancing and annotations. Additionally, modifiers for Free State, Projected Tolerance Zone, Statistical, Tangent Plane, and Unequally Disposed have been added to Tolerance Feature annotation in parts.
Easier Automation with iLogic
Inventor 2018.1 includes a new feature that makes it easier to implement and manage iLogic rules in a standard way. Until now, triggers for iLogic rules could only live within documents. With 2018.1 these can be deployed at a project or app level (like add-ins) so customers can do things like requiring a user to enter an iProperty value whenever a new drawing is created, etc. These triggers can live on a network drive, so it can help you automate and standardize across your organization.
Faster Drawing Updates
In Inventor 2018.1, drawing updates are faster because only the portions of the view that have changed are re-drawn. This reduces the work your machine has to do to complete the drawing update and can speed up design change workflows. The speed increase depends on the nature of the changes being made – an isolated change will update a lot faster and a change that affects the entire model will show less of a speed up. Below is a plot showing a few typical design change tests on some large assembly models to give you an idea of the effect.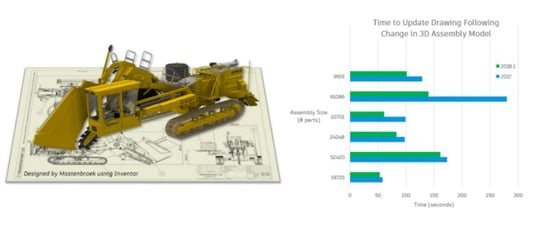 AnyCAD for SolidEdge
Inventor 2018.1 adds AnyCAD support for SolidEdge, meaning you can import SolidEdge parts and assemblies as a reference (with an associative link) or by converting them just like Inventor's other supported AnyCAD formats. Now you can take that native data in directly without having to go through STEP.
Outlined above are only a few of the new features available in Inventor 2018.1 but you can check them out in more detail, via the documentation or contact our Technical Team below. There's something useful for everyone in this mid-July release and as always, this update can be downloaded by logging into your Autodesk Account. Click the Product Enhancements link and you will see the update in the list.