Autodesk have released Revit update 2018.1 and it is now available for download. The update addresses a variety of issues with additional features accessible in your Autodesk Account for Subscribers to Revit, the AEC Collection, and suites containing Revit.
This release includes features and functionality that strengthen Revit – building a solid foundation for product reliability and efficiency – creating a modern and effortless experience. There's also functionality that helps you efficiently create information that captures design intent and connect workflows for team-based project delivery.
New Features:
These new features will benefit everyone, regardless of your discipline.
Dynamo Player improvements: The Dynamo Player which is the powerful scripting tool that installs with Revit, is now even more valuable as a way to automate tasks. You can now adapt Dynamo scripts to better-fit your needs by requesting user input before use. Providing user input directly in the Dynamo Player interface lets customers make project-specific adjustments to scripts without having to how to use Dynamo.
You'll be happy to see the new Schedule Management in project browser feature. This feature lets you apply project browser organization to schedules. Reducing visual clutter makes it easier to find schedules, especially in large projects.
The Autodesk® Structural Precast Extension for Revit® 2018 is a BIM-centric offering for modeling and detailing precast elements that promotes productivity and precision for engineers, detailers and fabricators working on typical building projects in the precast industry. As an app for Revit software, Structural Precast for Revit provides Revit users access to powerful tools for automatic rule-based segmentation, reinforcement, shop drawings and CAM files generation of precast planar concrete elements.
For MEP, Revit 2018.1 includes several fabrication modeling improvements that continue the story of functionality that was released with Revit 2018.
Sloped pipe in multipoint routing: With this feature you can more easily route sloped piping by specifying the slope as you are routing the pipe. For example, specify a slope like a ½" = 1'-0" as you are routing the pipe.  When you branch off the main run you can continue the same slope or change the slope to 1/8" = 1'-0" so that the branch has a different slope than the main run and all fittings are at the correct slope. Any taps into the pipe will automatically pick up the slope of the connected pipe.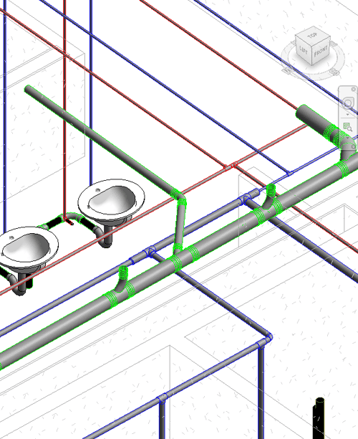 Dynamic holes: When you place a tap on a duct, the hole in that tap will be sent from the Revit detail model to Fabrication CAMduct for manufacturing. The shape of the hole doesn't matter. You can tap into a duct with a Square-to-Round and the pattern will be sent to Fabrication CAMduct.  You can view the hole location in a flat pattern on sheet metal in development and all the holes will be in the correct location when you fabricate the part.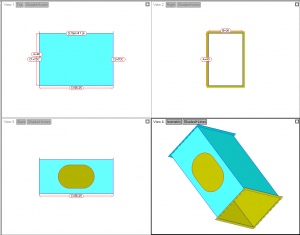 Outlined above are only a few of many of the new features available but to get more information on these updates click here or contact our Technical Team. There's something useful for everyone in this mid-July release and as always, this update can be downloaded by logging into your Autodesk Account. Click the Product Enhancements link and you will see the update in the list.